Home » Breweries, Featured Brewer
Brewer Profile: Brian Lonberg of Barley John's Brew Pub
One of the cool things about this website is that we are contacted by folks all across the country who want us to know about their festivals, new beer
releases and their breweries. We do what we can to pass on the information, either here or through our Facebook and Twitter accounts.
But the neatest thing about it is learning about brewers doing amazing things out of the spotlight that shines on the big national craft brewers. Such is the case with Brian Lonberg, head brewer at Barley John's Brew Pub in New Brighton, Minnesota, just a little north of Minneapolis-St. Paul. He contacted us a while back about being profiled in our occasional Featured Brewer series.
Though we haven't tasted any of the brewery's creations, the tap list speaks of creativity, and the reviewers at BeerAdvocate.com give Barley John's an overall "excellent" rating of 91. And embracing renewable resources, the brewery currently is installing a solar panel array to power the production process.
Here's the interview.
Name: Brian Lonberg.
Age: 30.
Where you live: St. Paul, Minnesota.
Family: My new wife, Rachel, and our two cats, Jaffe and Aesop.
Day job: Brewer.
Online (Twitter, blog, facebook, etc.): Our website is: www.barleyjohns.com – but I update our Facebook page more frequently: www.facebook.com/BarleyJohns – we also have a Twitter handle: @BarleyJohns.
Any other personal stuff you'd like to add?
Life is a crooked road. I got my BA from the U of Iowa. I didn't know what I should do after I graduated so I studied abroad in Germany – before that I hated beer! After that I still didn't know what I wanted to do when I grew up, so I enrolled in culinary school (I've had jobs in the food industry since I was in high school, and love to cook at home). I started homebrewing as an extension of my culinary creativity while I was at Le Cordon Bleu. After moving around and working in some pretty great kitchens, and after a stint at a gastropub in Seattle where the owner was good enough to let me be cellarman as well as sous, I ended up wanting to hone my brewing chops, and that leads me to where I am today.
How long have you been brewing?
Homebrewing seven years, professionally nine months
Did you start by homebrewing?
Absolutely. I was a cook before I was a chef. I think it is natural training wheels.
What is your "brewing philosophy"?
Beer is a science and an art.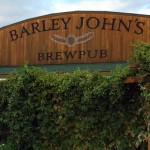 The science is all about research, practice and patience. Everything you read gives you a little better understanding on how you can and do affect your beer – temperatures, sanitation, grain selection, boil length, yeast selection, etc. Practicing your steps to ensure you're doing the same things at the same times and in the same ways so you can (hopefully) get the same results. And patience (one I really had to force myself to learn) to not rush those things that can't/shouldn't be rushed. You'll regret it a lot longer than the time it saved you (or worse yet, you'll regret it later, and you'll spend three times longer doing it because you rushed it in the first minutes).
The art is something else. Reading is still key. Read a lot about what other people do, and what other people expect from you. You can't do proper innovation and improvisation until you understand who you're riffing off. But the fun research here is in the drinking! Try all the beers you can. After that, use your practiced skills and knowledge and throw in a little imagination and see what you get. The more you experiment the more you learn. Using ingredients is the only way you're going to know how they work, taste, and react to you, your beer, and your system. You can't get better if you don't take a risk. Risks don't always pay out, but when they do it can be something really special, and possibly unexpected. Trust yourself, but have good reason to do so.
What kind of brewing setup do you have/work with?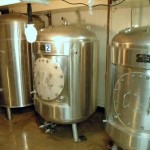 We have a 4 bbl system: mashtun/kettle combo, lauter tun, whirlpool, and a 1 bbl cereal cooker. We have a pair of 8 bbl primary fermenters and an 8 bbl milk tank we use as a fermenter, two similarly-sized bright tanks, and eight 200 gallon service vessels.
How much of your brews are "from scratch"? (Do you grow your own hops or grains, yeast cultures, etc.?)
We culture our own house yeast. When we get special yeasts in for seasonal,  I try my best to get at least two batches out of the strain. We also grow some hops along our patio fence. 2/3 are Cascade and 1/3 are East Kent Goldings stock. They yield enough to dry hop our Winter Ale. We also grow a lot of the vegetables/peppers/herbs we use in the restaurant during the warmer months.
What is your biggest brewing triumph?
I am still humbled by the trust the owner and former head brewer had in me, and all the freedom that I'm given in my work. I submitted an unsolicited resume after moving back to Minnesota from New York, and it just so happened Barley John's was looking for an assistant brewer, but didn't have the hours to support a full time employee. They also needed some kitchen help. I was talking to the right people at the right time. I worked in the kitchen a day or two a week, and was in the brew house the other three or four days. I asked a lot of questions, got my hands dirty, volunteered to do as much as I could, and worked my way up. Less than three months later the then head brewer, Colin, started phasing himself out as he worked more and more on opening his own brewery in Duluth. I was offered the job of head brewer, and was thrilled with my great fortune. John (Moore), the owner, gives me so much freedom to not only brew his classic recipes, but to create my own seasonals and create cask beer offerings. I can't imagine a better place for me to be.
Your biggest brewing failure?
Knock wood, I haven't had a huge failure at the brewery. I did, however, just look at a beer I have going at home – a rhubarb lambic that's been sitting for almost 11 months now. It moved with me from NYC in the carboy – well apparently since I checked on it last the fermenter lock went dry, and there's a carpet of powdery white stuff on top. I'm pretty broken up about it.
What are you drinking right now (or just drank or getting ready to drink)?
I'm drinking my Kaffir Pale Ale. It is the first seasonal I did top to bottom, including writing the recipe for the big system at work. It is an American Pale Ale I brewed with fresh Kaffir Lime Leaves – in the boil, whirlpool, and dry hopped in secondary. I'm really pleased with how it turned out.
Besides your own brews, what are your favorite beers?
People have asked me, if I had only one beer to drink for the rest of my life, what would it be. Unequivocally I would have to say Orval. I'm also a huge fan of Haandbryggeriet, Elysian, Cantillon, Gulden Draak, A'Chouffe, Russian River, Southern Tier, New Belgian, Odell, and my local favorite would probably be either Rush River or Town Hall.
What are your goals for your brewing?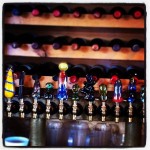 Years from now I would love to open my own place where I can use my skills both as chef and as brewer. I really like Elysian's model of having several pubs, each with their own feel, and distributing to a small geographical area.
What is the most important piece of advice you can offer someone who is thinking about becoming a brewer?
Don't be afraid to work hard, work for free, ask a lot of questions, and keep on people to give you a chance to be in their world. Back when I was a sous chef in Seattle I contacted just about every brewery in town before Shawn at Lazy Boy Brewing Company in Everett allowed me to hang out and lend a hand. I got paid in pints of his absolutely amazing porter, and spent most of my time washing kegs, cleaning the floor or lugging grain. It wasn't prestige work, but it was fun, and it got my foot in the door.
What has been the most useful resource for your brewing (book, website, store, mentor, etc.)?
Professionally, Colin, my predecessor. He guided me in my first steps from homebrewer to professional brewer. As far as books go, Homebrewer's Companion
is how I got my start. Other books I like: Yeast: The Practical Guide to Beer Fermentation
, Brew Like a Monk
, The Homebrewer's Garden
, and the Classic Beer Style Series
. Websites I love include: hopville.com (they have a great calculator for writing your own homebrew recipes), bjcp.com, probrewer.com, and mncraftbrew.com.
If someone is planning a Road Trip for Beer to your area, what "don't miss" spots would you recommend?
I am lucky enough to live in stumbling distance from the two best beer bars in the Twin Cities: The Muddy Pig and The Happy Gnome. Town Hall Brew Pub is great, as well. And of course I have to point you in the direction of Barley John's. If you're shopping I have a particular affinity for US Liquor and Wine in Hopkins (despite the name, they have possibly the largest selection of beer in the metro area) and the Ale Jail.
Anything else you want to add?
Beer is a serious thing that shouldn't be taken too seriously. Don't be a snob just to be a snob, and don't be rude to people who don't have as "discerning" a palate as you think you do. Drink the good stuff, but more importantly, drink what you like. Do, however, keep a tasting journal. Mine has over 1,400 entries and growing.  You'll never know what you like unless you keep your mind open and try everything you can. This philosophy doesn't have to be limited to beer. Eat exotic food, experience foreign culture, experience the theater and live music, and get everything you can out of this short life you have to enjoy. Everything ties together.